The SmartResilience project is excited to share several recent updates related to its web tools, including the launch of the MySmartResilience and updates to the Welcome web page of the tool.
MySmartResilience Tool
A recent update to the SmartResilience web interface includes a new section of the tool called MySmartResilience that enables personalized data entry, analysis, and saving.
Project stakeholders should contact smartresilience-core@eu-vri.eu to gain access to this section of the tool.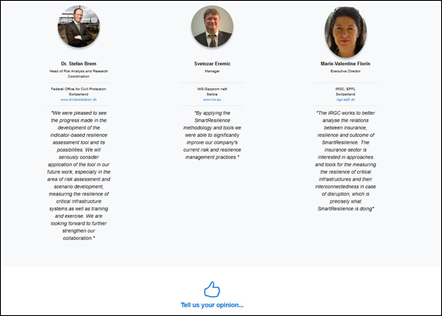 SmartResilience Welcome Web Page Updates
Two recent updates have been made to the Welcome web page of the SmartResilience tool:
1. Testimonials have been added to share end-user and project participant experiences with and impressions of SmartResilience.
2. A Feedback Survey is now available via the "Tell us your opinion" button and directly via this link: http://www.smartresilience2.eu-vri.eu/Survey_Run.aspx?ID=978. We ask that interested parties please help us by taking some time (estimated 10-15 minutes) to complete this survey to help us improve the SmartResilience tool and potential applications. This survey can be distributed to anyone who may be interested in providing feedback. There is also an opportunity included in this survey to provide a testimonial for the project.
Date
:
Monday, November 26, 2018